Join us on Matthew Turner for the annual Master Mariner's Benevolent Association Regatta.
Matthew Turner will be racing for the first time in this exciting annual San Francisco Bay classic boat tradition! Watch the professional crew sail the ship, trimming for speed and tactically navigating the ship to round the marks as quickly as possible. The crew's focus will be on boat speed and performance so there may be salt spray, & windy or choppy conditions. Other classic ships and smaller boats racing in their respective fleets can be seen on the race course. Sandwich lunch and non alcoholic beverages are included. The end time may be before or after 3:30 depending on the time it takes to sail the course.
Read more about the event here and see photos from past regattas here.
Can't make this sail? Check out our sailing calendar for other dates or treat a friend with a Gift Certificate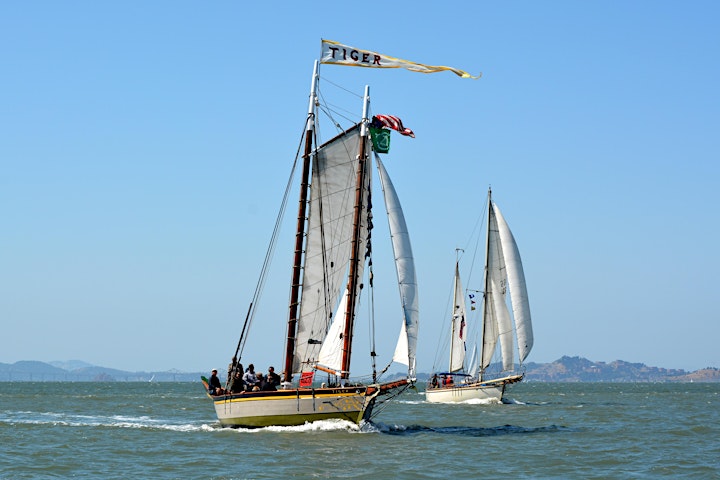 This image of the gaff rigged schooner,Tiger, is from the 2017 Regatta, taken by Roxanne Fairbairn of Roxshots. Scroll down for more images of past regattas by Call of the Sea's Executive Director, Steven Woodside.
The Ship
Matthew Turner is a 132' wooden brigantine, built in Sausalito, CA, launched in 2017 and sailing the Bay since 2020. She is an unique educational platform, serving students of all ages in Seamanship, Marie Science, Nautical History and Team Building instruction. Contact us to arrange an educational sail for a group.
Location
Matthew Turner is docked at the US Army Corps of Engineers Bay Model Visitor Center at 2100 Bridgeway in Sausalito, CA.
Parking
Free parking is available in the US Army Corps of Engineer Bay Model Visitor Center lot. There will be an escort to walk you down the pier past the gate.
Restrooms
Matthew Turner has a public restroom on board. Restroom is available for use one at a time. We do recommend using shore facilities at the Bay Model as a priority prior to sailing.
Covid 19 Safety Protocol
Masks are required for all passengers
Temperature and health check for all passengers before boarding
Social distancing of 6′ between people if they are not in the same household
Cohorts of passengers will be spaced together, away from others in Zone seating areas
Vessel surfaces are sanitized before sailing
Hand sanitizer will be available for frequent use by all passengers
What to Bring
Bring a reusable water bottle to ensure you stay hydrated. You may bring food and beverages if packaged in single serving portions.
Dress in layers: a windbreaker, warm base layer, gloves, hat, sunglasses, sunscreen and comfortable shoes. No high heels are permitted. Face masks are required
Cameras are welcome, but water can sometimes splash aboard. Protect your equipment accordingly.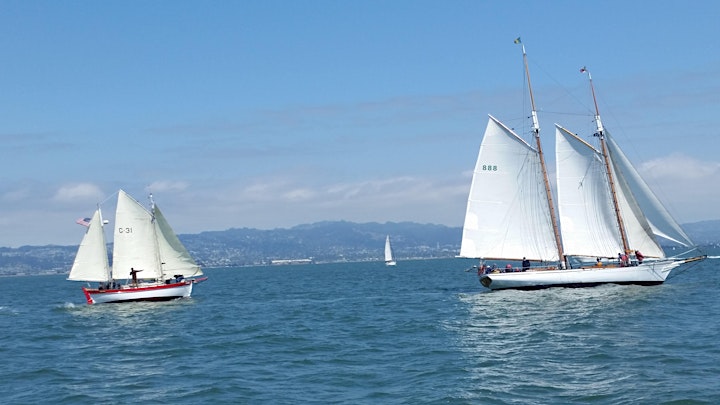 Weather
We sail in most weather, including cold, wind, fog, and light showers. On occasion, we will need to reschedule a sail due to extreme wind or rain. You will be notified within 24 hours of the scheduled sail and we will work with you to reschedule or refund your order.
Tickets
A ticket is required for all passengers, including infants. Children 17 and under must be accompanied and supervised at all times by an adult.
Cancellation
We do not offer guests an option to cancel or reschedule within 7 days. No refunds if you miss the boat. Call of the Sea reserves the right to cancel a sail if that event does not meet our minimum capacity requirements. Call of the Sea will notify these customers at least 2 days prior to the event. Customers can reschedule for another sail or receive a full refund.
Why Call of the Sea?
We're a nonprofit supporting on-the-water environmental educational programs to youth. Community Sails are a great way to share our mission and to help lower costs for educational sails. If you are interested in youth field trips, please check out our website.
Fair winds
Covid 19 Zone seating Protocol
Masks will be worn during the duration of the voyage by passengers and crew.
Passengers will be assigned to seating area zones on the vessel that will be their home base during the duration of the sail on San Francisco Bay, spending most of their time during the trip in these assigned zones.
Passengers should avoid close contact* with other passengers outside their zone.
People can move around the boat as required to use the head, eat lunch or access their personal belongings.
The charthouse can be accessed to get snacks, access personal belongings or get out of the elements for short periods, but time in the chart house should be minimized.
When passengers leave their zone they should return to the zone within 10 minutes, in order to allow other passengers the space to move about.
The Captain will include these special COVID procedures during his safety briefing.
*CDC Guidelines: For COVID-19, a close contact is defined as any individual who was within 6 feet of an infected person for at least 15 minutes starting from 2 days before illness onset (or, for asymptomatic patients, 2 days prior to positive specimen collection) until the time the patient is isolated.