Join us on Matthew Turner for the Sausalito Lighted Boat Parade and Fireworks, a Festive Holiday spectacle!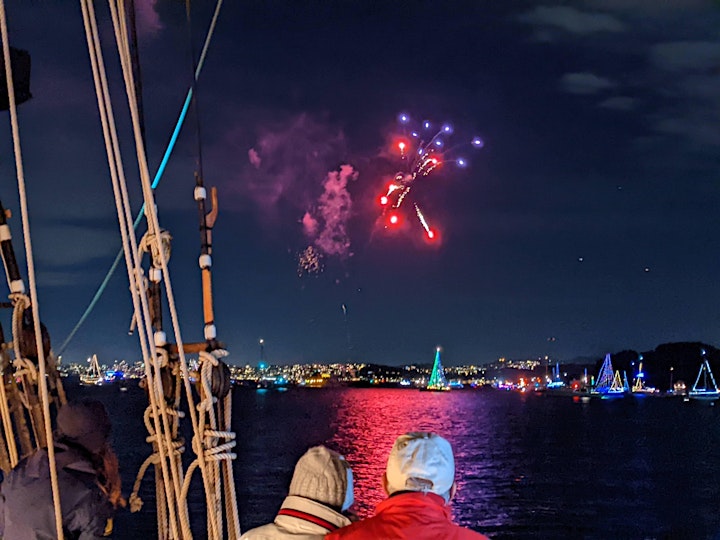 The Ship
Matthew Turner is a 132' wooden brigantine, built in Sausalito, CA, launched in 2017 and sailing the Bay since 2020. She is an unique educational platform, serving students of all ages in Seamanship, Marie Science, Nautical History and Team Building instruction. Contact us to arrange an educational sail for a group.
Location
Matthew Turner is docked at the US Army Corps of Engineers Bay Model Visitor Center at 2100 Bridgeway in Sausalito, CA. Access to the parking lot and pier is via Marinship Way.
Parking
Free parking is available in the US Army Corps of Engineer Bay Model Visitor Center lot. There will be an escort to walk you down the pier past the gate.
Restrooms
Matthew Turner has a public restroom on board. Restroom is available for use one at a time. We do recommend using shore facilities at the Bay Model as a priority prior to sailing.
Covid 19 Safety Protocol
Masks are reccomended when accessing interior spaces
What to Bring
We supply non alcoholic beverages such as coffee, tea, cocoa, sparkling water and sodas, as well as healthy snacks such as trail mix. Feel free to bring additional food. Beer and wine is allowed, if moderately enjoyed. No spirits please.
Dress in warm layers: a jacket or windbreaker, warm base layer, gloves, scarf, hat, sunglasses, sunscreen and comfortable shoes. No high heels are permitted.
You may want to bring a warm blanket or heavy shawl
Weather
We sail in most weather, including cold, wind, fog, and light showers. On occasion, we will need to reschedule a sail due to extreme wind or rain. You will be notified within 24 hours of the scheduled sail and we will work with you to reschedule or refund your order.
Tickets
A ticket is required for all passengers, including infants. Children 17 and under must be accompanied and supervised at all times by an adult.
Cancellation
We do not offer guests an option to cancel or reschedule within 7 days. No refunds if you miss the boat. Call of the Sea reserves the right to cancel a sail if that event does not meet our minimum capacity requirements. Call of the Sea will notify these customers at least 2 days prior to the event. Customers can reschedule for another sail or receive a full refund.
Why Call of the Sea?
We're a nonprofit supporting on-the-water environmental educational programs to youth. Community Sails are a great way to share our mission and to help lower costs for educational sails. If you are interested in youth field trips, please check out our website.
Fair winds
Check out the video from a past Parade!